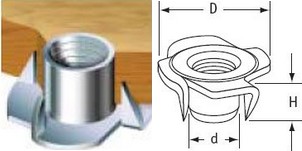 Steel T-Nuts
Material: Ocel. Ideal for use with Adjustable Feet, Tilt Glides, Castors and Locking Bolts. Easy to assemble, simply insert into a pre-drilled hole and tap into place with a hammer.
رقم الطلبية
Thread
الأبعاد
عدد القطع في العلبة
السعر / العلبة / القطع
السعر/ القطعة
D
d
H
ZT-M06
M6
19
7,4
9
4000
0,33 TND
0,54 TND
ZT-M08
M8
22
9,5
11
1250
0,62 TND
0,99 TND
ZT-M10
M10
25
12
12
750
0,98 TND
1,6 TND

Prices are without VAT. If specified order number, please, it will add it to the selected type of goods. We will be glad to send you any quantity. In case of large subscriptions, please contact us.